STONE NUMBER 3 GOLDEN IS USA as of Feb 2018 Am.GCh.Int.Ch.Nat.Ch Nocatee Wonderland's Stone in Love BISS A TOP 20 GOLDEN 2018
http://www.k9data.com/pedigree.asp?ID=583327 Stone wins 10 Best of breeds in Florida moving him up quickly toward the top 20 and does a clean sweep 3 out 4 days winning Best Of Breed Atlanta GA in a beautiful breed lineup including the number 1 dog in the country 14 specials and 63 goldens Stone also placed everyday in The Sporting Group 3rd another Sporting group 3rd and 4th very strong group Atalanta GA Sporting Group 2nd Lakeland fl and Sporting Group 3rd lakeland Fl

Stone is a moderate Compact boy with beautiful structure and a gorgeous s wide open sidgait. Its hard to find a compact boy that moves like this but Stone has it all with a beautiful pedigree behind him
.Stone has a beautiful smooth blend of neck into shoulders and rock sold topline he moves effortlessly and super clean mover his foot timing in exceptional beautiful dark pigment .
Stone is a Very Compact dog yet he can fly in that ring which is hard to find in a compact dog very nice open sidegait and he carries his tail straight off his back.
Pat Hastings of the puppy Puzzle was VERY pleased with Stone and she is a tough cookie to please and a dear friend of mine
:) Stone's Sperm is 100 percent and in the billions and has excellent forward progression tested by Dr Leigh Mcbride. Stone has all his OFA clearances and also all genetic Paw Print clearances ALL CLEAR .
Stone is at stud to approved bitches please contact Diane Gank 352-451-3700
Stone picked up 5 points from the 6-9 class Owner handled by my hubby Vern and Best in Sweeps as well as Multiple best puppy Group 1st and Best Owner handler group 1 at 6 months old he also took Best of Breed over several specials and a Huge Sporting group 3rd at 12 months old..Stone was owner handled in the puppy classes . Stone also won Best of winners for a 5 point major at The Golden Retriever Club of Columbus Ohio and Best of Winners at the Michigan Sporting dog association...Stone finished his Championship with another major and took award of Merit as a move up ...First day out as a special Stone wins Best of Breed and Sporting group 3rd out of a nice lineup. Back to back Opposite sex at the Atlantis Golden Reteriver club specialty's entry of 70 and 15 specials .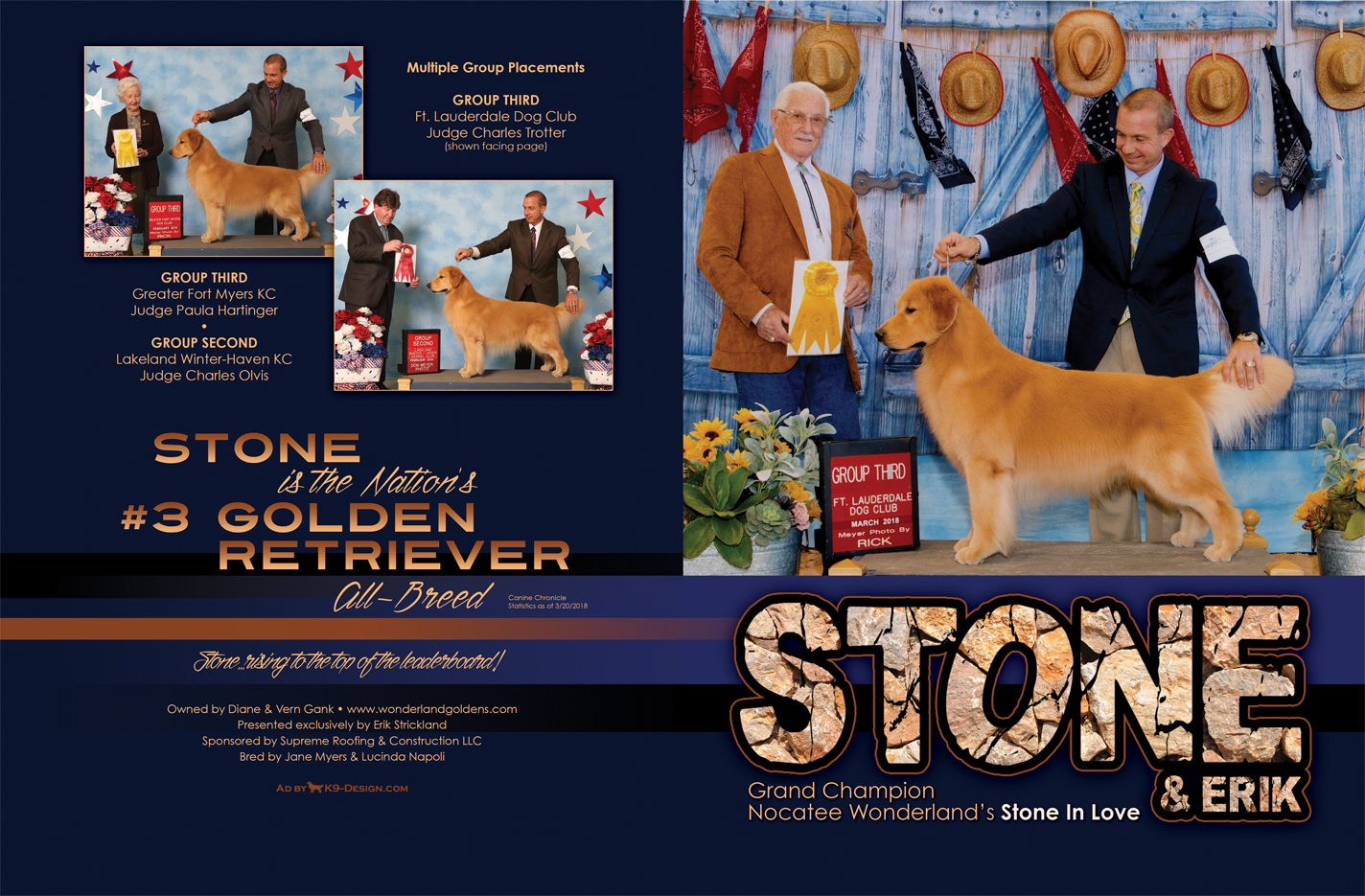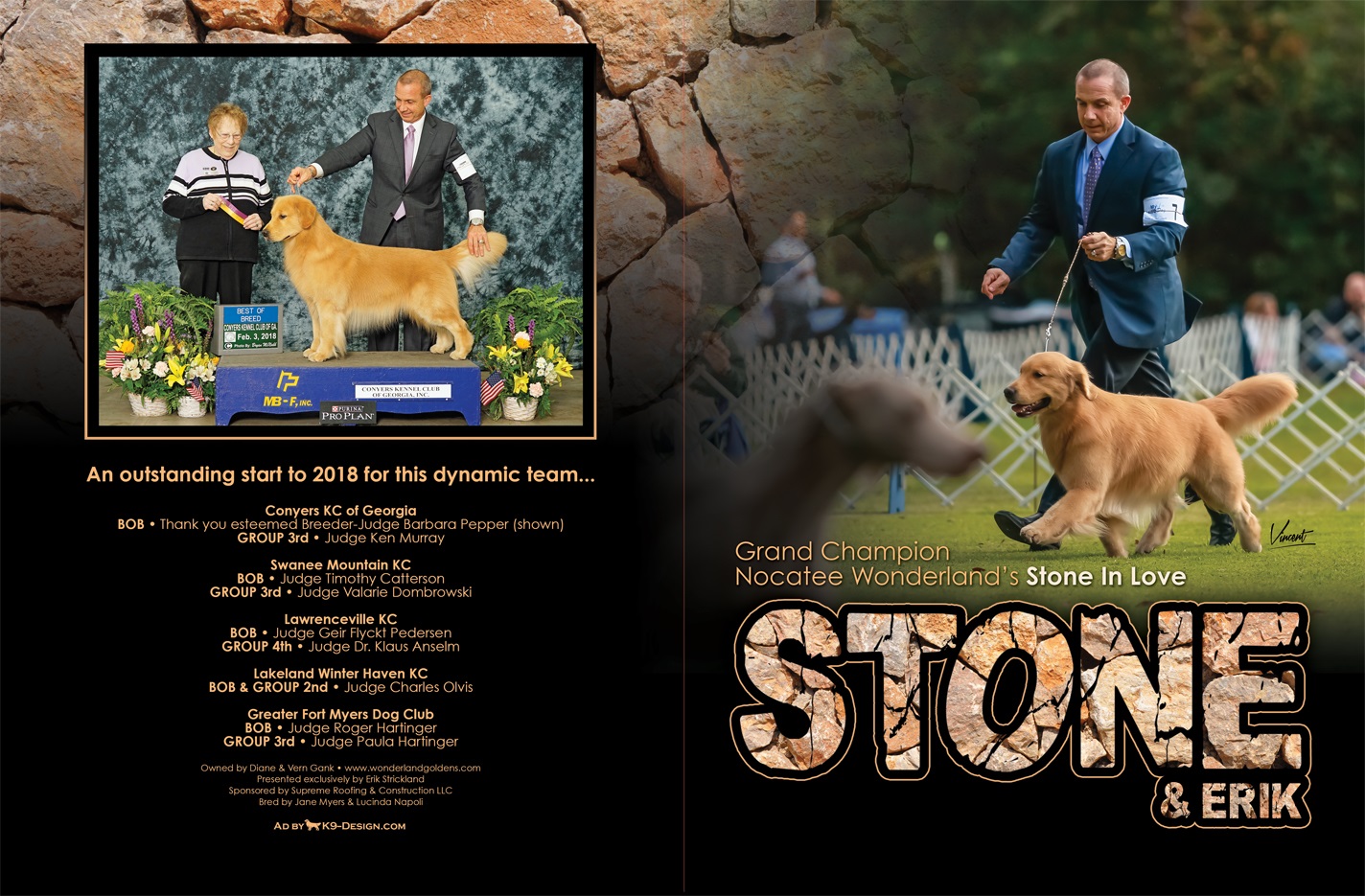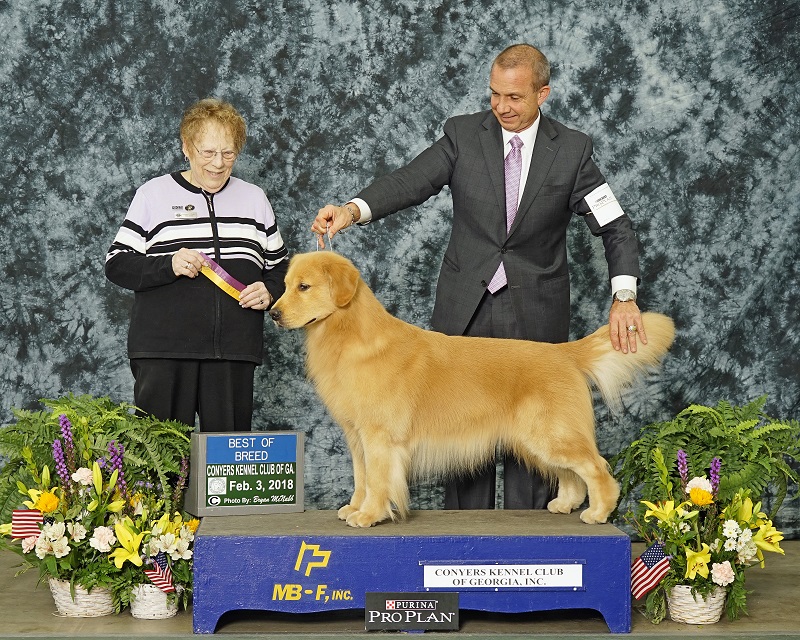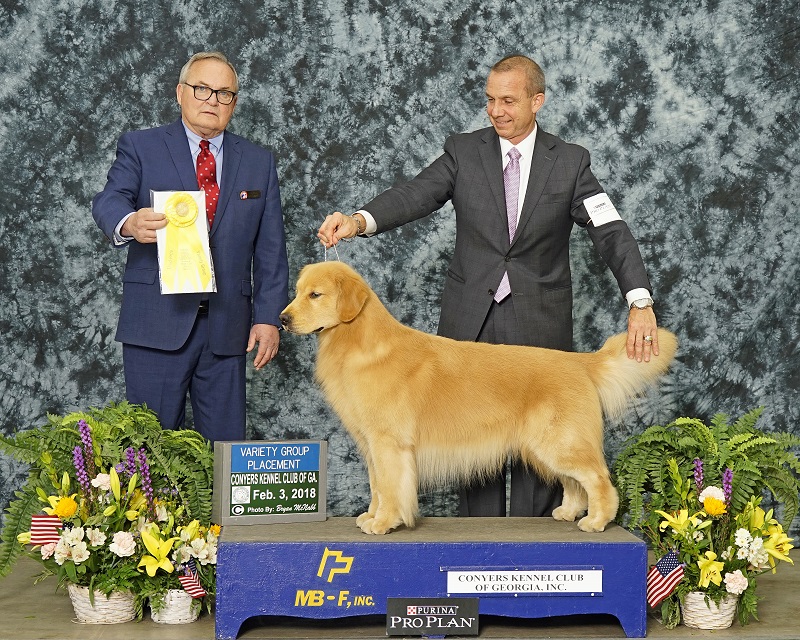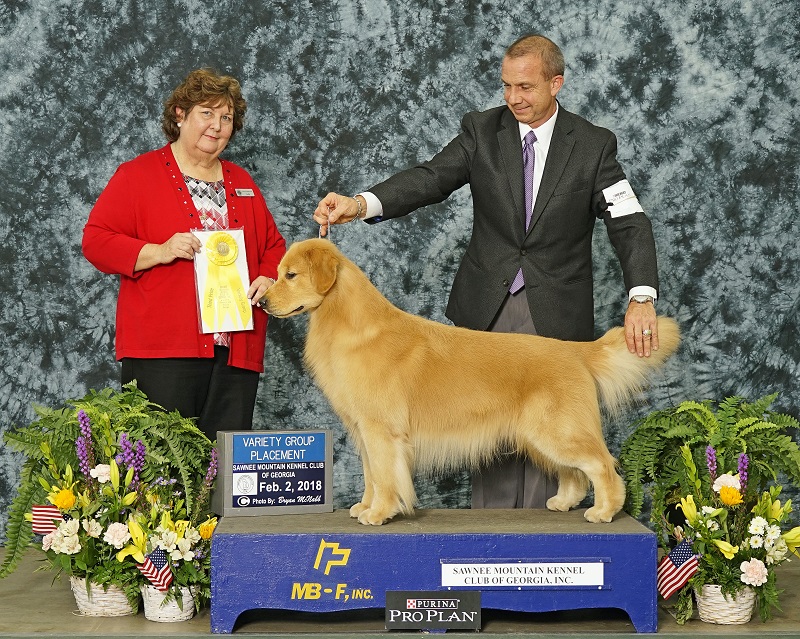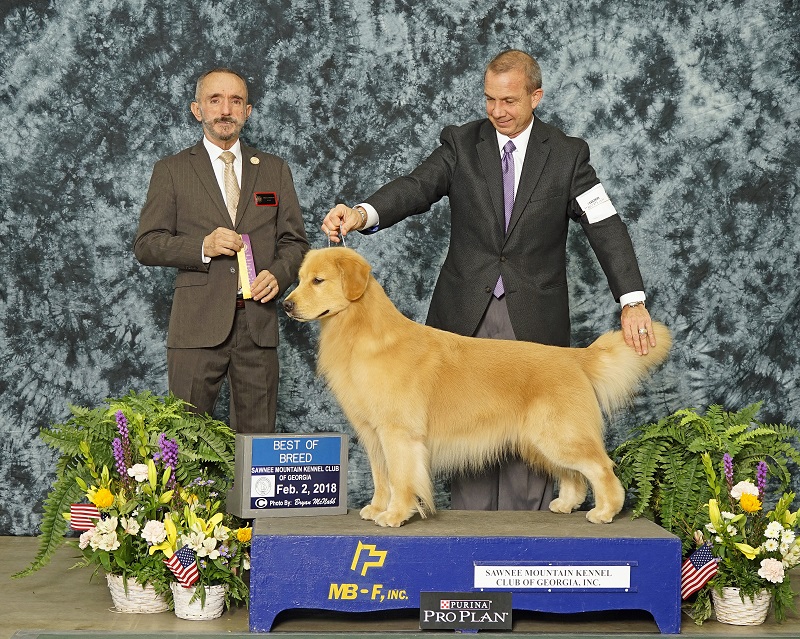 ...Stone was bred by Jane Myers and Lucinda Napoli and is owned by Diane and Vern Gank of Wonderland's Goldens Stone is at stud to approved bitches